Beaconsfield School of English
Practice books for the CEM 11+
Written by Jeremy Bull, published by BSE
Verbal Reasoning practice for the CEM 11+
ISBN 978-1-5272-0524-6; A4 paperback format; 153 pp
Non-Verbal Reasoning for the CEM 11+
ISBN 978-1-5272-0702-8; A4 paperback format; 120 pp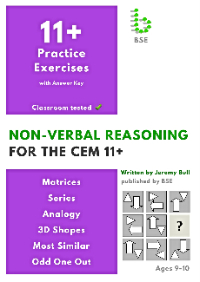 Packing and postage: £1.99 per title. Orders are dispatched by Royal Mail First Class post by the next working day.
Non-Verbal Reasoning for the CEM 11+ is available from February, 2018 and is available to pre-order now.

Please make your selection below then click on the Buy Now button to make your purchase.

Pay securely by PayPal, credit card or debit card.