Preparation for the 11+
11+ tuition and Mock 11+ Test Sessions
Welcome to the Beaconsfield School of Education website. Here you can find out about our 11 Plus courses, Mock GL 11 Plus test sessions, online practice tests and 11 Plus books. The News page has our latest news and special offers.
Beaconsfield School of Education has helped students prepare for their 11 Plus since 2013. The School provides a wide range of study and learning resources. These include 11 Plus taught courses, online teaching, Mock GL 11 Plus Test Sessions in Beaconsfield, 11 Plus practice book publications and an 11 Plus practice tests student portal.
11 Plus Courses
Beaconsfield School of Education specialises in 11 Plus courses for children preparing for the GL Assessment® examination. The courses are for pupils in Year 5 and are taught One to One (private tuition with an 11 Plus tutor). We continually develop our 11 Plus courses to reflect the latest trends and developments in the 11 Plus. Our 11 Plus lessons are taught face-to-face or online using the ZOOM platform by a highly experienced tutor, in the children's own home.
Registration is currently open for the following academic years:
2022/23
2023/24
2024/25
2025/26
Online 11 Plus Tests
11 Plus Practice Online helps children all around the UK prepare for their 11 Plus. The Beaconsfield School of Education student portal has over 30,000 11 Plus questions. The questions cover all the key areas and provide an endless supply of tests. Regular practice enables children to see where their performance is strongest, and where there is need for improvement. For a one-off fee, students have unlimited access to the practice tests portal until 30 November, 2022.
Mock 11 Plus Test Sessions
Beaconsfield School of Education administers Mock 11 Plus Test Sessions every summer. Pupils take up to six Mock 11+ tests. The sessions take place in a modern hall setting in Beaconsfield. The Mock Test Sessions are held on weekends in July and August. The Mock Tests are for children in Year 5 who are preparing for the GL Assessment® 11 Plus. Children gain valuable experience of sitting an 11 Plus exam under formal test conditions. BSE's Mock 11 Plus Tests provide parents with a reliable external assessment of their child's ability and an insight into topics needing further practice.
11 Plus Books
Beaconsfield School of Education has published a series of 11 Plus practice books. These can be ordered from our Books page. The books provide practice exercises in English, Vocabulary, Verbal Reasoning, Reading Comprehension and Non-Verbal Reasoning. The practice exercises have been classroom tested and each book includes an Answer Key.
Registering for an 11 Plus course or Mock 11 Plus Test Session at Beaconsfield School of Education is easy. So why not register today?
Beaconsfield School of Education
15 London End, Beaconsfield, HP9 2HN
tel: 01494 899 844
fax: 01494 899 149
info@beaconsfieldschool.co.uk
Why Beaconsfield School of Education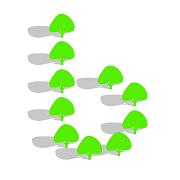 The woodlands of the Chiltern Hills are dominated by beech trees.

The beech tree has long been a symbol of learning and knowledge.
In times past, students would keep some beech tree bark for good luck in their studies.
The copy in this website is copyright © Beaconsfield School of Education and is protected under UK and international law.
Beaconsfield School of Education | 11 Plus Courses | Beaconsfield